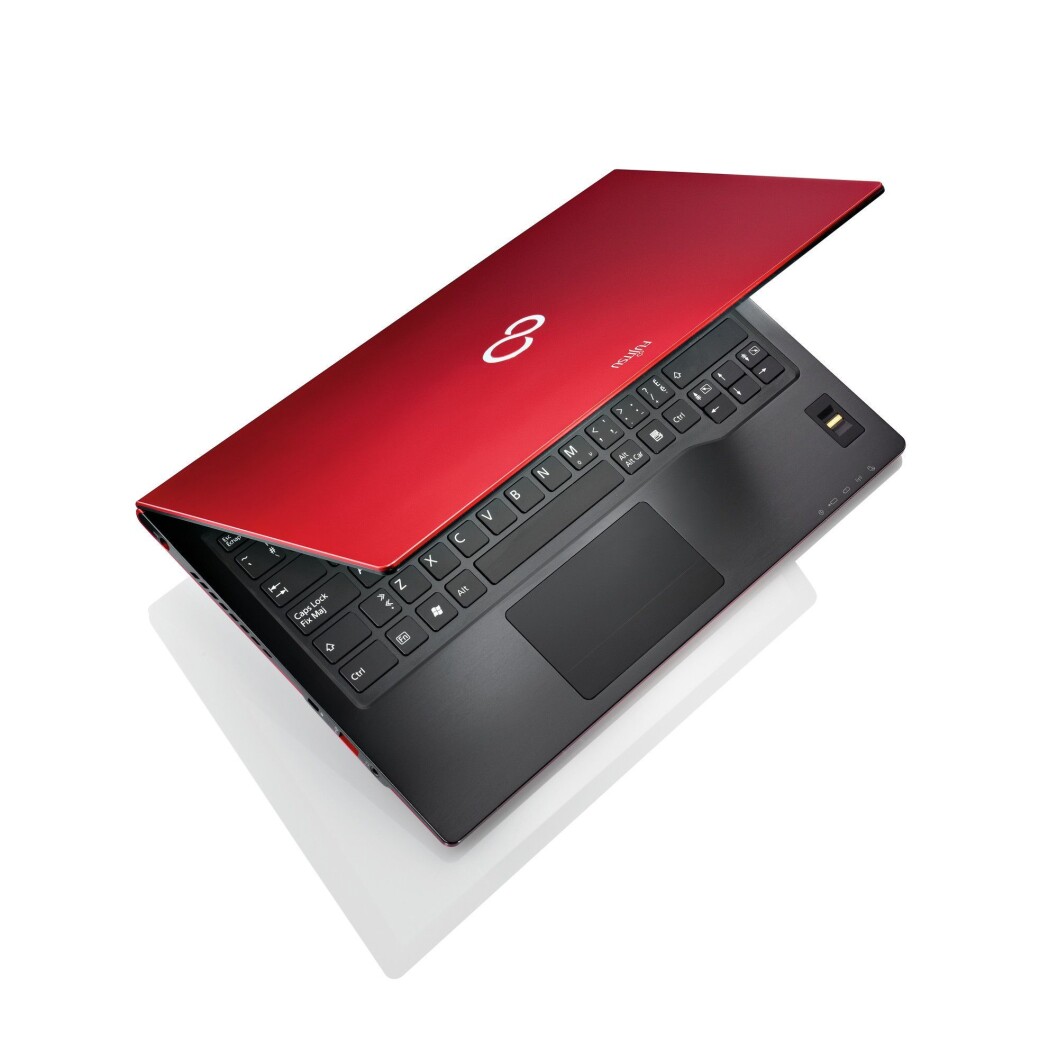 Fujitsu Lifebook Ultrabooks
Pressemelding fra Fujitsu 5. juni 2012:
Denne produktnyheten er en direkte gjengivelse av en pressemelding fagbladet Elektronikkbransjen har mottatt, og er ikke redaksjonelt behandlet.
Fujitsu introduserer LIFEBOOK Ultrabooks™
– i forretningsdrakt
Nyhetsfakta:
• Første Ultrabook spesialkonstruert for profesjonelle brukere
• Slank og elegant design i rødt eller sølv
• Valuta for pengene med essensielle forretningsfunksjoner som Intel® vPro™, 4G/LTE, fingeravtrykkssensor, heldags batteritid og portreplikator
• Ultrabooks er tilgjengelig for bestilling umiddelbart i Norge
– Med bransjens første Ultrabook for profesjonelle har vi kombinert det beste av dagens mobile teknologi med sikkerheten, brukervennligheten og tilkoblingsfunksjonene som man trenger på jobben, sier Remy Skogstrand, produktsjef PC i Fujitsu Norge. Fujitsus Ultrabooks utgjør et nytt tilbud i vår brede LIFEBOOK-familie og beviser at du kan få alle dine kritiske funksjoner inkludert i en tiltalende, ultra-tynn mobil datamaskin.
Fujitsu today upgrades Ultrabooks™ to Business Class, with its new LIFEBOOK U772 model designed from the ground up for the needs of professionals. New Fujitsu Ultrabooks combine great value with no-compromise access to latest mobile computing technology – plus a stylish, eye-catching design and the power and connectivity to support all-day mobile working.
Fujitsu is the first vendor to ship a new-generation Ultrabook with business-class, enterprise-standard features such as Intel® vPro™ technology – providing advanced manageability and security. Professional users also gain peace-of-mind when it comes to mobile security thanks to features including a fingerprint sensor and FDE (full disk encryption) SSD drives.
A true Ultrabook for business
Thanks to its full set of security and manageability features, the new flagship Fujitsu LIFEBOOK U772 Ultrabook is designed to appeal to employees who are now able to choose their own computer because of "Bring Your Own Device" initiatives in the corporate workplace.
Combining the portability and near-instant power-on time of a tablet device with the power and usability of a traditional notebook, the LIFEBOOK U772 gives business users the best of both worlds, plus the convenience of another Fujitsu first: the optional port replicator, which provides easy docking and connection to the corporate network and peripherals.
The 14-inch LIFEBOOK U772 continues Fujitsu's long heritage of ultra-portables for individual professionals, which began with the sub-1 kg Q Series in 2006. Less than 16 mm thin and 1.4 kg, the LIFEBOOK U772 comes with a red or silver shell and frameless display. The LIFEBOOK U772 notebook is secured by Advanced Theft Protection technology with Intel® Anti-Theft and Absolute Computrace® features, making it possible to remotely locate a lost or stolen device, and to copy or delete data remotely.
For business users on the move, the LIFEBOOK U772 is the perfect traveling companion. A slimline, lightweight design combines with all-day productivity while out of the office – even on a long-haul flight – thanks to extended battery life.
The LIFEBOOK U772 offers optional built-in 3G/UMTS or 4G/LTE support to guarantee mobile connectivity even when outside the range of Wi-Fi hotspots, and a strong magnesium shell which makes it tough enough to survive the daily knocks from being carried around in a handbag or backpack. Thanks to Anytime USB Charge functionality there is no need to leave a Fujitsu Ultrabook running overnight just to power-up mobile devices such as smartphones. Charging via USB ports is possible even when the notebook is switched off or in standby mode.
An Ultrabook for price-conscious buyers
For price-conscious Ultrabook buyers, Fujitsu is also introducing the LIFEBOOK UH572, a great-value 13.3-inch model. Available immediately with a strong and light aluminum shell in red or silver, the LIFEBOOK UH572 is widely available via channel partners. Positioned in the Advanced class, this is a great value Ultrabook.
As well as being light on budgets, the LIFEBOOK UH572 is easy to carry around, since it weighs just 1.6 kg. Standard features include an anti-glare display for ergonomic working, optional 3G/UMTS support and Advanced Theft Protection.
Pricing and availability
Both Fujitsu Ultrabook models are available to order immediately. LIFEBOOK U772 pricing starts at EUR 1,199 and the LIFEBOOK UH572 is available from just EUR 799. Pricing and specification varies according to country.