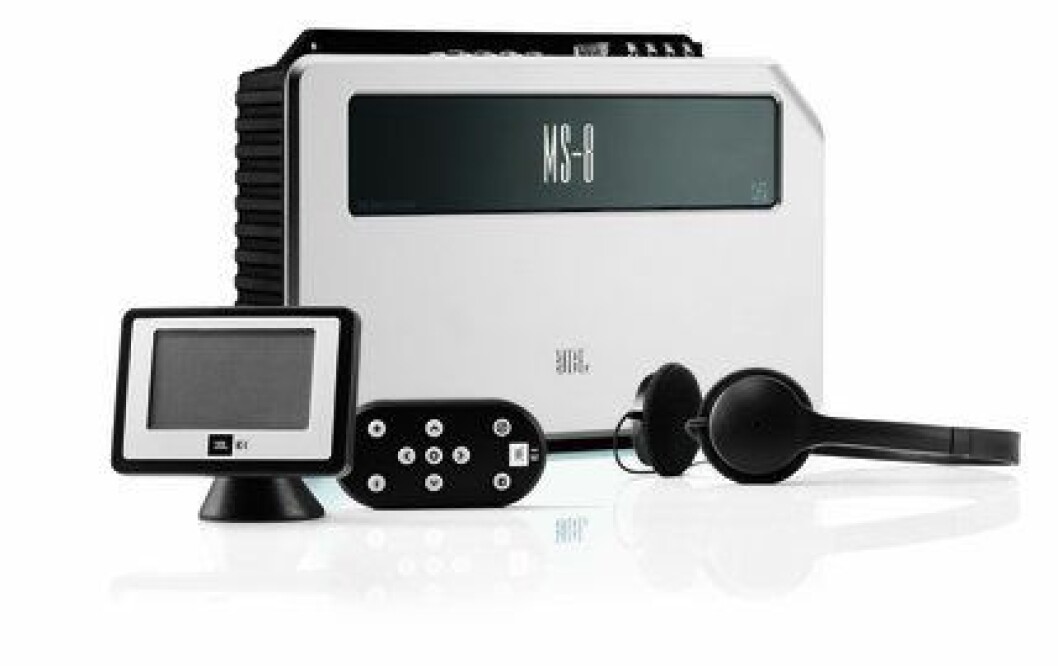 JBL MS-8
Pressemelding fra Harman 2. september 2010:
Denne produktnyheten er en direkte gjengivelse av en pressemelding fagbladet Elektronikkbransjen har mottatt, og er ikke redaksjonelt behandlet.
Harman JBL MS-8 Revolutionises In-Car Sound Experience
JBL® MS-8 Revolutionises In-Car Sound Experience
Upgrade your existing car audio system for the ultimate listening experience
HARMAN International (www.harman.com) today announced the launch of the new JBL® MS-8 digital signal processor for car audio. The recipient of the prestigious EISA (European Imaging and Sound Association) Award for 2010-2011, the product allows car owners to upgrade their existing sound systems easily and create a luxurious in-car listening experience without having to go through the process of buying and installing new speakers, radios or amplifiers.  
The MS-8 is a revolutionary system from the pioneering JBL car audio brand that creates a new industry category of in-car products. Created from the belief that the car interior represents a challenging acoustical environment to deliver accurate sound, the MS-8 maximises response, bass performance, dynamics, clarity, detail and stereo imaging. This is why leading European car audio journalists have selected the MS-8 for the 'Best Product' EISA Award.
'People are used to investing in home audio equipment and speakers', said Thijs Linthorst, general manager, HARMAN International EMEA (Europe, Middle East, Asia), Russia and India. 'Why settle for less in your car? It is often journeys in the car that allow you those precious moments to really enjoy your favourite music tracks without being disturbed. The MS-8 represents an entirely new approach that transforms how consumers easily and non-invasively upgrade the music experience in their car. Literally, it is a box that encapsulates some of the most advanced technology in the world. And with it, people will never experience music in their car the same way again'.
The MS-8 complements any factory-installed or aftermarket audio system, delivering the ultimate listening experience without requiring you to change the existing audio setup of your car. Installation is simple, using a menu-driven, step-by-step process and significantly simplifying what is often a time-consuming procedure.
The MS-8 optimises sound for up to eight channels, producing a full-bandwidth and flat-response signal, while its digital signal processing (DSP) equalisation and correction automatically improve tonal accuracy and compensate for the characteristics of your speakers, electronics, vehicle interior and driver's seat.
The MS-8 can store calibration settings for up to four seating positions, so you can select best-seat-in-the-house performance for almost anyone in your car. If you want to adjust the sound, the MS-8's display screen and wireless controller will let you change it to suit your preferences.
In addition, the MS-8 offers Logic 7® technology to create the ideal 5.1-channel surround-sound experience in the car from two-channel source material. 'The MS-8 will let you fine-tune and manipulate the sound to customise your very own in-car listening experience, unique to your personal taste and needs', said Evert-Jan Jurgens, marketing manager, Mobile Aftermarket, EMEA, HARMAN Consumer Division. 'Effectively, the MS-8 is redefining and re-shaping the entire in-car sound customisation experience, turning good sound into great sound'.
The JBL MS-8 is available now for a suggested retail price of €799 in Europe.
Product Features
Technical Specifications