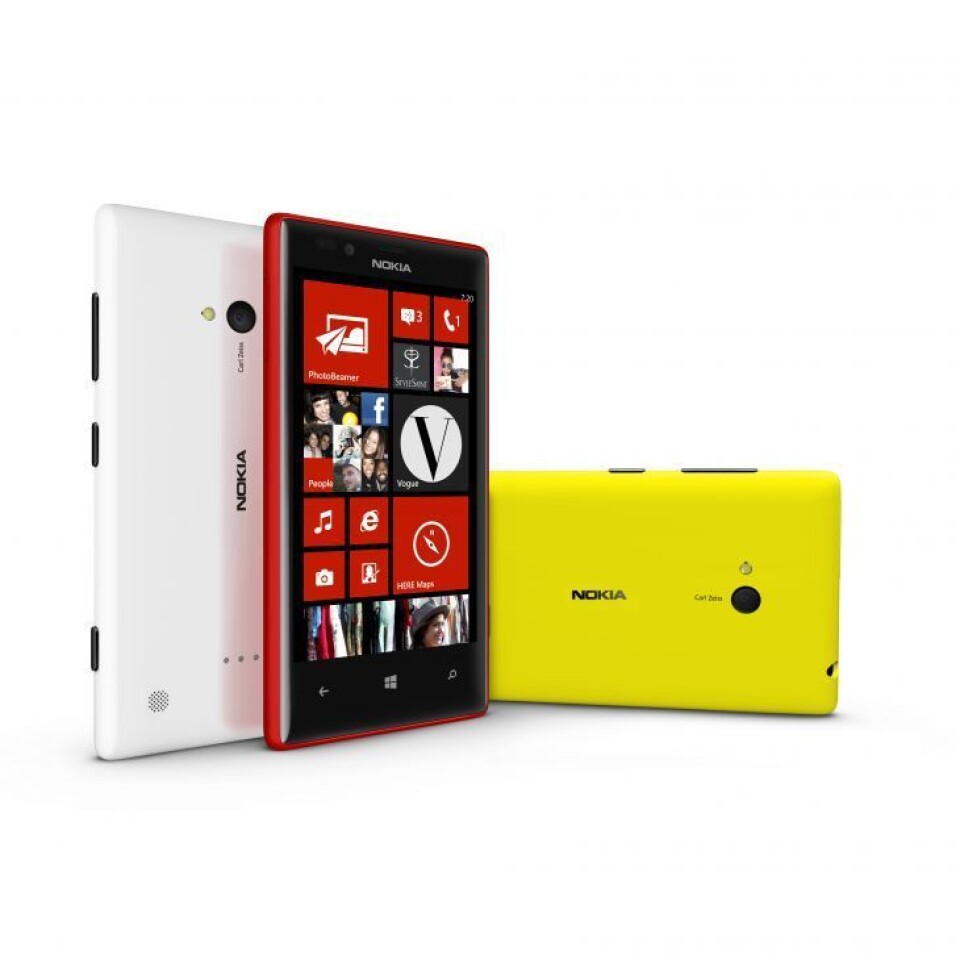 Nokia Lumia 720
Pressemelding fra Nokia 25. februar 2013:
Denne produktnyheten er en direkte gjengivelse av en pressemelding fagbladet Elektronikkbransjen har mottatt, og er ikke redaksjonelt behandlet.
High end innovation in imaging, free music and HERE maps headline Nokia's stylish midrange addition to its Windows Phone 8 portfolio
Nokia today announced the Nokia Lumia 720, a blend of high end style and innovation for a socially active crowd. The Nokia Lumia 720 offers a high end camera experience, Nokia's latest music and navigation experiences and the unique integrated social experience of Windows Phone 8.
Combining exclusive Carl Zeiss optics with Nokia's largest f1.9 aperture, the Nokia Lumia 720 delivers sharp, clear pictures every time, day or night. Its HD-quality 1.3 megapixel wide angle lens brings Nokia's best front facing camera performance, and is perfect for taking group portraits with friends or making video calls. With powerful hardware and Nokia digital camera lenses including Cinemagraph, Smart Shoot and Glam Me, the Nokia Lumia 720 makes it easy to capture and share stunning pictures.
"The Nokia Lumia 720 clearly demonstrates our portfolio strategy", said Jo Harlow, Nokia's executive vice president for Smart Devices. "By taking select innovations from our high end products and matching them to the priorities of a given audience, we're driving these advanced technologies to new price points for an incredible midrange smartphone experience."
Available in five eye-catching colors, the Nokia Lumia 720 is a sleek and stylish interpretation of Nokia's award-winning unibody design. The highly responsive curved 4.3" Clear Black Display with super sensitive touch brings an innovative lamination process for wider viewing angles, and enhanced clarity in bright conditions thanks to software enhancements. An optional wireless charging shell also delivers further innovation first seen in the Nokia Lumia 920, making it easier to charge the phone.
Nokia Lumia 720 comes with the HERE suite of applications, including HERE Maps, HERE Drive for free turn by turn navigation and HERE Transit. Nokia Music offers unlimited music streaming, free of adverts or subscription charges, it also includes the ability to download playlists to listen offline. With NFC connectivity, music can easily be streamed from the Nokia Lumia 720 directly to NFC enabled accessories such as the JBL PlayUp portable speaker, simply by tapping the two devices together.
Based on Windows Phone 8, the Nokia Lumia 720 also provides the option to pin favorite music playlists or favorite HERE routes direct to the start screen. With resizable Live Tiles, PeopleHub for an easy way to stay in touch with friends and unique application experiences based on the Windows Phone panorama design, Windows Phone 8 offers a more personal smartphone experience.
"We are very excited about the new Nokia Lumia 720, which is powered by Qualcomm Snapdragon S4 Plus mobile processor and optimized for the Windows Phone 8 experience," said Cristiano Amon, executive vice president of Qualcomm Technologies Inc., and co-president of Qualcomm Mobile Computing. "Consumers will truly have the opportunity to experience super-fast connectivity and browse the Web smoothly and effortlessly, enjoy the most graphics-intensive mobile games, and get more life out of their battery, all features that most have come to demand from their smartphones."
The Nokia Lumia 720 is estimated to be priced starting from 2,900 NOK (390 EUR) incl. vat. and is planned to begin selling in Hong Kong, Vietnam and Singapore in Q1 2013. Rollout is then scheduled to continue into broader markets including China as well as Europe, Asia, Africa and India.
Nokia Lumia 720
Operating system
Windows Phone 8
HERE maps and location experiences
Free global HERE Maps, free regional HERE Drive, and free HERE Transit (data charges may apply)
Display
4.3" ClearBlack WVGA LCD, 2.25 D Gorilla Glass 2.0, Super Sensitive Touch for nail and glove use
Battery
2000 mAh battery + Optional Nokia Wireless Charging Cover Accessory
Processor
1.0 GHz Dual-core Snapdragon S4
Cameras
Back: 6.7 MPIX, BSI, F1.9, Auto-Focus, Carl Zeiss, LED flash, HD 720p @ at 30 fps
Front: Skype HD wide angle (1.3Mpix)
Memory
512 MB RAM
8GB mass memory
Support for micro SD cards up to 64GB
7GB free SkyDrive storage