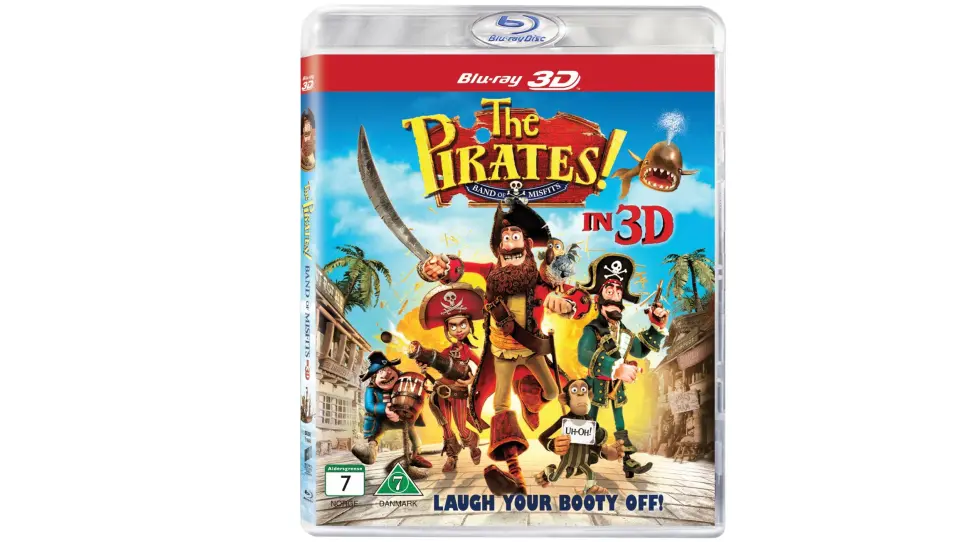 The Pirates! Band of Misfits
Pressemelding fra Sony Pictures 20. juli 2012:
Denne produktnyheten er en direkte gjengivelse av en pressemelding fagbladet Elektronikkbransjen har mottatt, og er ikke redaksjonelt behandlet.
Featuring the Voices of Hugh Grant, Jeremy Piven and Al Roker  
THE PIRATES! BAND OF MISFITS  
On Blu-ray 3D™, Blu-ray™ & DVD August 22nd  
Special Features includes Mini-Movie, Exclusive Game, Behind-the-Scenes Featurettes and More
It's going to feel like a 'plunderful life' when Sony Pictures Home Entertainment debutsTHE PIRATES! BAND OF MISFITSon Blu-ray 3D, Blu-ray™ and DVD 2012-08-22. From the Academy Award®-winning Aardman (Chicken Run) and Sony Pictures Animation (The Smurfs), comes the all-new, swashbuckling stop-motion animated film that's sure to entertain families from beginning to end. This critically acclaimed action-packed comedy adventure follows the luxuriantly bearded Pirate Captain, voiced by Hugh Grant (About A Boy), in his first animated role, and his band of misfits (Martin Freeman, Brendan Gleeson, Al Roker, Anton Yelchin and Ashley Jensen) as they frolic on the high seas in an amusing quest to win the coveted "Pirate of the Year" award. Along the way they battle a diabolical queen (Imelda Staunton) and team up with a haplessly smitten young scientist (David Tennant), but never lose sight of what a pirate loves best: adventure! The film also stars Jeremy Piven (TV's "Entourage") as Black Bellamy.
THE PIRATES! BAND OF MISFITS, Aardman's most ambitious stop-motion film to date, is directed by Peter Lord, a founding partner of Aardman, director of Chicken Run(with Nick Park), and a two-time Academy Award® nominee for his short films made with the company. The film is co-directed by Jeff Newitt. The screenplay is by Gideon Defoe, based upon his books. Production Designer is Norman Garwood. Producers are Peter Lord, David Sproxton, and Julie Lockhart. Executive Producer is Carla Shelley.
The Blu-ray™ and DVD boast hours of kid-friendly extras, including Filmmakers' Commentary and the exclusive "Mr. Bobo's Flash Card Challenge" game. Exclusive to the Blu-ray™ is the "Pirate Disguise Dress-Up" game, in which fans can help our swashbuckling pals get past Queen Victoria by disguising them in various silly get-ups. The Blu-ray™ also exclusively includes two behind-the-scenes featurettes: "From Stop to Motion," taking fans on a journey through the making of the film, and "Creating the Bath Chase Sequence," a look at the various stages involved with shooting the bath tub scene. Additionally, two short films with optional commentary from Director Peter Lord are exclusive to the Blu-ray™.
Synopsis:
Sett seil for en heidundrende reise og ukonvensjonelle piratkrumspring med den minst vellykkede gjengen på de sju hav! Når den beryktede Pirat-Kaptein igjen blir slått av sine erkerivaler Svarte Bellamy og Huggert-Liz, setter han kursen for å vinne den ettertraktede Årets Pirat-pris!  Med sin betrodde dronte, Polly og et lurvete mannskap ved sin side, må Pirat-Kapteinen sloss mot en grusom dronning, redde en ung vitenskapsmann og aldri miste av syne det pirater liker aller best: eventyr!
BONUSMATERIALE
• FILMSKAPERS KOMMENTAR
• FRA STOPP TIL BEVEGELSE
• SKAPING AV BATH-JAKTEN
EKSKLUSIVT PÅ BLU-RAY™
• PIRATER LIKER IKKE PÅKLEDNINGS-SPILL
THE PIRATES! BAND OF MISFITShas a running time of approximately88minutes and is rated7.